Jul 5, 2012
Samsung, Sony and Chinese manufacturers have marketed the smart phones using dual core chips which have the prices of less than 7 million dong. Meanwhile, Vietnamese enterprises have also jumped into the low-cost smart phone market.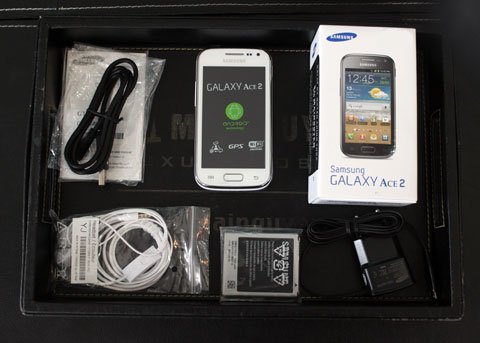 Galaxy Ace 2 is the latest low-cost dual core smart phone model present in Vietnam. Priced at 7 million dong, this is the cheapest dual core smart phone of Samsung in Vietnam. Prior to that, the cheapest model was Galaxy S Advance which also had the sale price at less than 10 million dong.
Meanwhile, Sony has introduced Xperia U and Sola, which have the prices between 7 million dong and 9 million dong. The dual core smart phones of Sony joined the market late, but the products have better prices than the products of the rivals. Both Sola and U have good designs, good configuration, which is enough for the users, who do not have money to buy high grade smart phones.
Dual core smart phone was the main tendency in 2011. However, with the availability of a lot of new products in the market, high grade products have become cheaper. LG Optimus 2X, for example, and HTC Sensation have seen the price drop to 10 million dong.
Analysts have predicted that users would have more opportunities to buy high grade smart phones at low prices, when more products would be sold widely at the shops in summer.
Besides Nokia and Sony, nearly all big mobile phone manufacturers now use quad core for their high grade smart phones, especially the ones running on Android. As a result, the smart phones with dual core have become less favored. The newly marketed models using dual cores have the sale prices hovering around 10 million dong.
Ngo Phu, the manager of a hi-tech product shop in district 11 of HCM City, said that high-speed phones are getting cheaper every day.
"Nokia has introduced the models with 1 GHz chip which have the sale prices at below 3 million dong. Dual core phones would continue the trend and become cheaper in the time to come," Phu predicted.
Besides the world's big well known manufacturers, Chinese companies have also jumped into the market segment by offering the products with competitive prices. In late 2011, K-Touch sold W700 at 6 million dong. Meizu, another big name, is considering marketing its MX model, which was predicted last month that it would be sold at 10 million dong. However, a businessman in HCM City said that the final price may be lower, because the mobile phone prices are on the decrease.
Huawei and ZTE are going to introduce their new devices after MWC 2012 organized earlier this year. The two manufacturers have revealed that their products would be priced at less than 10 million dong, using dual core chip and the screen with the size of more than four inches.
LG and Motorola have also announced that they would market many new models this summer, using powerful processors and having good prices.
Sources have said that Vietnamese enterprises are also planning to jump on the bandwagon. Q-Mobile, for example, after a long period of focusing on popular low cost products, is gong to market a series of smart phone models which are dirt cheap with the prices of 1.5-3 million dong.
Mobiistar, another well-known Vietnamese brand, has unexpected introduced Touch S01 using Android operation system which is priced at les than 3 million dong.
Source: BuuDien
Comments
comments