This past weekend, Vietnam (and possibly all of Asia) had one of its first ever double city hackathons. In other words, Vietnam's beautiful capital city, Hanoi, and the country's new tech city, Binh Duong, simultaneously coded away in a hackathon that lasted over 48 hours. At the end of the grueling weekend, with over 60 teams across two cities competing, six teams walked away with huge prizes. The awards were humble but significant for the young professionals and students competing.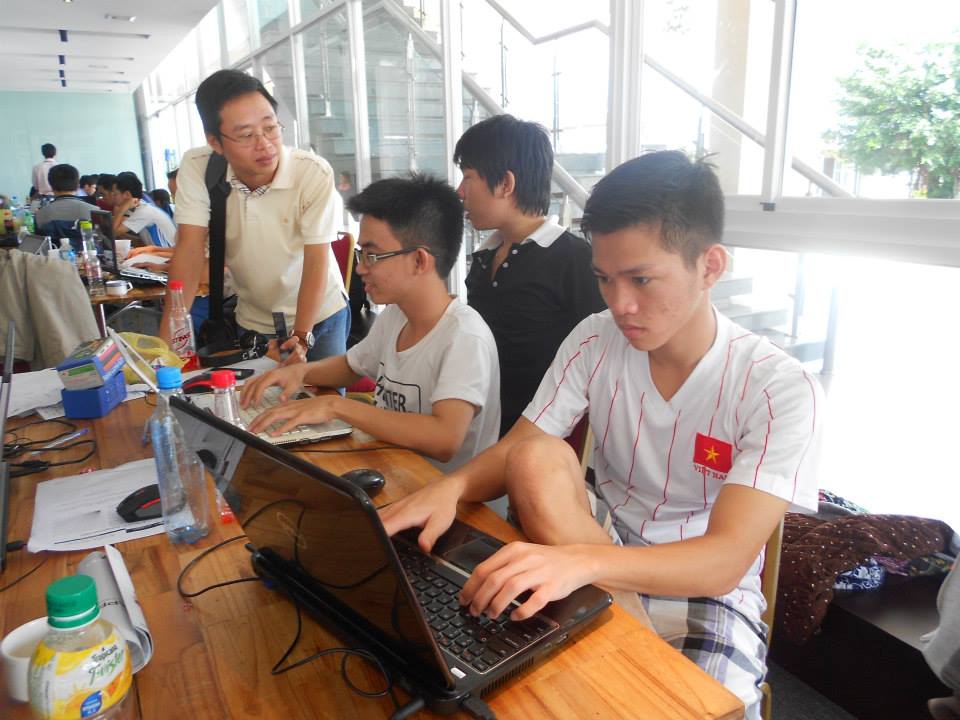 * First prize: $2,400
* Second prize: $1,000
* Third prize: $500
The themes for this hackathon, unlike the JV Hacking Fest that focused specifically on healthcare in Japanese and Vietnamese markets, spanned four categories: productivity, games, education, and content platforms. With such a diverse set of themes, hackers were also given the right to combine themes to make things like a games-related education app or a content platform for sharing productivity tips.
The hackathon, organized by Aiti Education, a technology education firm, started last Friday afternoon. They met their mentors and hacked all the way until Sunday afternoon, when each team was given between three to five minutes to present. But the truly special thing that separated this hackathon from any other hackathon in Vietnam was the simultaneous pitching that happened across north and south (the actual event was held in BTIC, Binh Duong, a new spacious piece of land built with the vision of being Vietnam's next futuristic tech city. It's an over one-hour drive outside of Ho Chi Minh city).
As each team pitched, audience members from both cities could see the other city pitching in the background. Although you couldn't hear the other city, you could feel the strength of the two hacker communities coming together.
On Facebook, each city's teams shared their latest meals, exercise routines, and finally app ideas to each other as they asked for votes from friends and fellow developers. At the end of it all, only six teams walked away with prizes.
In the north
In the north, the 20 teams came together to hack in Ha Noi's new city center, Cau Giay. There was a host of ideas including a personal finance app, a soccer live-streaming application, a number of action games, and several educational apps. But in the end, these were the three big winners:
Thần Đồng: A very simple Android, iOS, and BB10 game that teaches mathematics. It asks users to very quickly determine the relationship between numbers in a mathematical equation. Think quickly: if the answer is 1, what is the relationship between 6 and 6? Of course, it's division. The team's presentation captured the audience with laughs as the demo guys mistakenly typed 6 plus 6 equals 1. The concept is simple and the team hopes to monetize the app by offering more advanced mathematical packages for users.
Child's Garden: This is an educational content platform for kids on iPad. Children can watch videos, play games, read stories, and share their experiences online on Child's Garden. Most of this content is pulled from the internet currently but the team will be creating their own content and selling it in packages to users.
Bi Bi: The judge's favorite and an interesting twist on educational apps for children, this Blackberry tablet app allows parents to record their own voice to read stories to their children. Most educational apps babysit parents for them, whereas this app allows parents to still be involved with their children even when they're not with them.
In the south
Down in Binh Duong, more than 40 teams hacked away in Vietnam's new futuristic city over an hour outside of Ho Chi Minh city. This made for a particularly isolated hackathon, but also allowed hackers to focus on building their products and getting to know the teams around them as they exercised, ate, slept, and coded together. The three winning teams included:
Ai Ngốc Hơn: A fun game that involves two players holding a Windows phone at once. It quizzes two players on prompts in the game. If one player is not fast enough or guesses incorrectly, they lose. It's fun for folks who only have one phone for a quick game.
CFL: This app is designed to help people who are trying to chill out with a game that helps them relax. It is a platform for a bunch of games that all challenges the user to think but also relax and remember the good 'ol days when they were still kids. For example, Vietnamese puzzle games that adults used to play as children.
StoMo: This is an app that allows users to film stop motion videos on their mobile. It's a really simple take on filming video online and also allows users to share their videos.
All of the above apps will be appearing in their respective stores within the next few weeks. The teams that did not win were also encouraged to upload their apps, so keep an eye out.
Coming up
According to organizers at the Mobile Hackathon, the vision is to grow this platform even bigger, bringing in more business people and marketers, possibly involving international cities, making the program longer (not just a 48-hour hackathon), and adding in investment opportunities beyond just the winning prize. It's initiatives like this that represent new momentum in Vietnam's startup scene.
Up next is one more hackathon-like event coming out of Vietnam called Startup Competition, which although isn't totally in the tech sphere, will kick off into the Startup Weekend NEXT. Vietnam has held Startup Weekend for the past three years, one of which gave birth to the relatively well known startupTicketbox. The NEXT program will involve a full five weeks of hacking, business modeling, and training that will give birth to more innovative and complete products.
Theo Techinasia